Posted on
August 1st, 2016
by Admin
Weekly Update 01/08/16
It feels like winter out there, heavy underfoot and a chill in the breeze. Hey travellers! I hope you're all enjoying the warmer weather for those of you taking your winter holidays, hopefully you can bring some good weather back with you.
Thank you Ean and Janet McRobbie for kindly donating a new bookshelf for the clubrooms.
Preparations are underway for tournaments and events for later in the year, keep and eye out and gather some mates to make these events a winner for your club.
The 54 Hole posters are out! Book in Saturday 5th and Sunday 6th November for this great event, earlybird entry of $75 (inc 2's & lunch) if paid by 3rd October.
A reminder for volunteers to help with lifting and transporting turf from the old Manukau Golf Club between Fri 2nd Sept and Fri 9th Sept. This is a fantastic opportunity for us and your volunteer help will be most appreciated to make this task manageable. Contact the office, Graham Derrick or another Board member to add your name.
– Fri 2nd Sept – Fri 9th Sept – Turf relocation Maramarua/Manukau
Thank you to the helpers who volunteered their time for the drainage on the 13th – it was soggy work out there!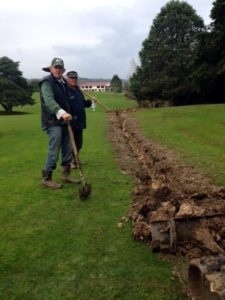 Golf results:
Men: Please refer to the competitions by the handicap board, you have until the 19th August to complete the first round of competition, then 4 weeks to complete the next round.
30/07/16 Men's Saturday scramble: T Detmar 47,C Benzie 39, L Barker 39, N York 39, W Jump 38, P Ying 38. Two's: G Cox, J Smith, W Jump, C York, P Thomson
02/08/16: Women's Tuesday scramble: P Price 33, G Cathcart 29, G Shuker 28
03/08/15 Wednesday stableford: R Price 37, R Ford 36, J Cassin 34. Hidden holes: R Ford
Upcoming Events:
Tuesdays: Women's 18 & 9 hole Competitions 9.00am
Wednesdays: Wed scramble 12pm
Saturdays: Men's competitions assemble 8am for 8:30am start, Women's 9am
4th Thursday: Midweek Open 9.30-12pm $25 entry
Thurs 25th Aug – Midweek Open, $25, tee off 9:30-12pm
Sat 5th & Sun 6th Nov – 54 Hole Tournament
Tues 22nd Nov – Women's 9 hole Tournament
Thurs 24th Nov – 1st Xmas Midweek
Sat 3rd Dec – 9am Club AGM
Tues 6th Dec – Women's Xmas Tournament
Sat 10th Dec – Mixed Xmas Tournament
Thurs 22nd Dec – 2nd Xmas Midweek Open