Posted on
September 18th, 2017
by Admin
Weekly Update 11/09/17
The kitchen is open 12-3pm 7 days and for Saturday breakfasts 6.30-8.30am (please pre-order Saturday breakfasts on Friday) You can text your order to David 021 027 75859
It's this Sunday! Bring a friend golfing, come on down for our Golf Open Day on Sunday 24th September. There will be no charge golf between 10am and 1pm (you can reserve a tee time) with golfing help for beginners and a wide range of clubs for hire including junior sets – spread the news and bring your friends.
It's Back! The Toro Mower Challenge is running from 25th Sept to 3rd Dec. You could win a self propelled mower valued at $989. There are 3 handicap divisions – 8 and under, 8.1-18, 18.1 and over. Each week the player with the best stableford score in each division goes in to the weekly draw for a new Toro SmartStow mower. Sign up for free at www.toromowerchallenge.co.nz. We have had a winner here before – will you be next?
Golf results:
Saturday format: Seniors off 1st Tee, playing 36 holes followed by the Juniors & C grade. With the Immediate grade off the 10th Tee also playing 36 hole. Note for the Lawson's Cup players need to play 36 holes. Players can tee off from 7.30am
16/09/17 Saturday scramble: N York 42, A Mathews 42, C Benzie 39, P Sue 38, T Detmar 38, M O'Hara 38. Hidden holes: M O'Hara. Two's: M O'Hara, D Barton.
20/09/17 Wednesday Stableford: G Wilcox 36, R Price 36, R Ford 36. Hidden holes: R Price.
Upcoming: Sat 30/09 Lloyd Pacey rnd 1.
The Board will be meeting approx every 4th Wednesday of the month, if there is anything you would like brought up at the Board meeting please have this in before the meeting dates. Next meeting TBC
We are dog friendly after 1.30pm, bring your fur kids down and enjoy an afternoon of golf.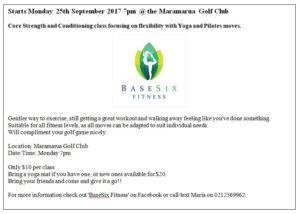 Upcoming Events:
Tuesdays: Women's 18 hole (9am) & 9 hole (10am) scramble
Wednesdays: Wed stableford – all welcome- 12pm start
Saturdays: Men's competitions assemble 8am for 8.30am start, Women's 9am
4th Thursday: Midweek Open 9.30-11:30am $25 entry
Sun 24th Sept – Golf Open day 10-1pm
Thurs 28th Sept – Midweek Open $25 tee off 9.30-11:30am
Thurs 26th Oct – Midweek Open $25 tee off 9.30-11.30am
Sat 4th & Sun 5th Nov – 54 Hole Tournament
Tues 21st Nov – Women's 9 hole Xmas Tournament
Thurs 23rd Nov – Mixed Midweek Xmas Tournament
Sat 2nd Dec – AGM 9am
Tues 5th Dec – Women's 18 hole Xmas Tournament
Sat 16th Dec – Mixed Xmas Tournament